Na poslednjem albumu, objavljenom tri nedelje pre nego što je napustio ovaj svet, pronicljivo nam je poručio: You want it darker. A sada izgleda da smo dobili to što smo tražili. Mrak u obliku zbirke melodičnih, ironičnih pesama, divnih u svojoj tami i neuhvatljivih u svom značenju. Upravo takav bio je i on kao autor, zar ne? Veliki Leonard Cohen.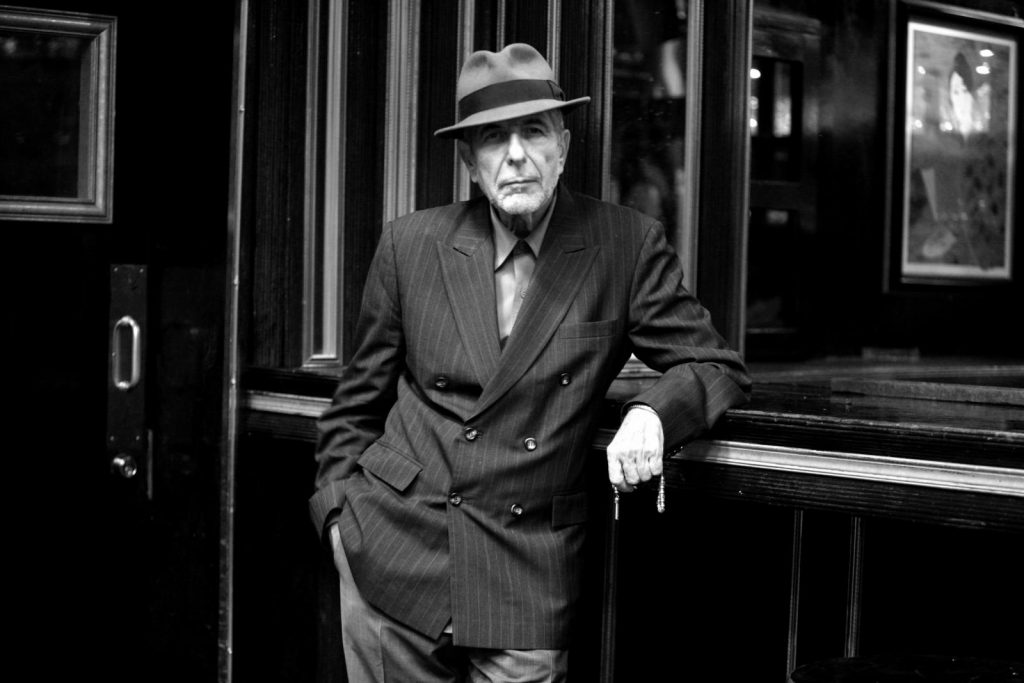 Kada je Leonard Cohen umro, 6. novembra 2016, ostavio je beleške o mislima koje su ga okupirale, kao i dnevnike, i crteže. Sve ove uspomene i vizije, uključujući i tekstove s poslednja tri albuma, sakupljene su na jednom mestu, u formi knjižice.
Zbirka pesama, koja je posthumno objavljena, sastavljana je tokom čitave 2016. godine i zove se The Flame (Plamen). Kroz predgovor nam se obratio njegov sin Adam, a ova kolekcija Cohenovih pesama deveta je po redu, i poslednja.
Adam kaže da je zbirka bila finalni Cohenov projekat. Životni projekat – what he was staying alive to do, his sole breathing purpose at the end. Zar ona, u isto vreme, nije prozor u um jednog od najvećih umetnika 20. i 21. veka? Umetnika čije su reči i pesme pomogle generacijama slušalaca i čitalaca.
Živeo je izuzetan i turbulentan život – rođen je u Montrealu 1934, sarađivao je sa velikim Bobom Dylanom i legendarnom Arethom Franklin, autor je genijalnih hitova Hallelujah, First We Take Manhattan, Dance me to The end of Love, Chelsey Hotel No. 2… Bio je zavodnik i budistički zen-monah, često je govorio o svojoj borbi sa depresijom, a manje o nagradama poput one Grammy (za životno delo) ili o članstvu u Rokenrol holu slavnih. U momentu kada je pisao pesme sabrane u zbirci The Flame imao je 82 godine, bio je lošeg zdravlja i trpeo bolove. Ono što knjiga uspeva da prenese, a što i njegov sin Adam navodi u uvodu, jeste Cohenov trud da se patnje oslobodi upravo kroz poeziju, kroz izbacivanje misli na papir. Njegova nemilosrdna posvećenost pisanju bila je lek.
Like a bird on the wire
Like a drunk in a midnight choir
I have tried, in my way, to be free.
Leonard Cohen
Obojena paletom tamnih nijansa, zbirka The Flame nudi nam pogled na svet koji samo sa određenim godinama možemo da vidimo. Njegov ton je oštar; mnoge od pesama govore o kajanju i priznavanju grešaka. No time to change / It's much too late / My gentle book, piše on. Iako prva asocijacija, kada čitate ovo, može biti mrak ili tuga, mi bismo ipak rekli – pasija i emocija koja plamti, bez uzdržavanja ili prilagođavanja. Hrabrost koja dolazi iz sučeljavanja sa životnim istinama. Ljubav, ljubav prema životu, ljubav prema iskrenosti… To je ono što se, takođe, čita. I ne samo sad, već i u celokupnom Cohenovom stvaralaštvu.
Ponekad zna da bude i zabavan, komentarišući svetska dešavanja. U pesmi koju su najviše citirali na internetu – Kanye West is not Picasso, Cohen kaže:
I am the real Kanye West
I don't get around much anymore
I never have
I only come alive after a war
And we have not had it yet.
I čitajući ovo, možemo da zamislimo autora kako sasvim ozbiljno kontemplira rad repera, koji, posebno danas, ima nezanemarljivo loš uticaj na kulturu i politiku čitavog sveta. Pesma je, inače, napisana 2015. godine.
I am the Kanye West of Kanye West
The Kanye West
Of the great bogus shift of bullshit culture
Iako smatran za introspektivnog autora, Cohen poemom Kanye West is not Picasso jasno govori da obraća pažnju na svet oko sebe, i govori da ga taj svet razočarava.
"Pisanje je bilo njegov razlog za postojanje", govori Adam Cohen u predgovoru. "Ono je bilo plamen koji je održavao, sagorevao, rasplamsavao. Plamen koji se nikada neće ugasiti."
Za čoveka koji je posvetio svoj rad razmišljanju o letargiji, tami i smrti, reći da ga više nema – smešno je. Upravo u smrti njegova vizija dobija nov život
Iako nije doživeo da u rukama drži publikovano izdanje, Cohen u njemu nudi zbirku pesama koja ponosno stoji na koncu njegove karijere. A ta karijera je, kao što već znate, trajala više od šest decenija, i tokom nje je objavio čak 14 studijskih albuma, dva romana i, sada, devet zbirki poezije. Ipak, za čoveka koji je posvetio svoj rad razmišljanju o letargiji, tami i smrti, reći da ga više nema – smešno je. Upravo u smrti njegova vizija dobija nov život.
U nastavku pročitajte jednu pesmu iz zbirke The Flame:
Happens to the Heart
I was always working steady
But I never called it art
I was funding my depression
Meeting Jesus reading Marx
Sure it failed my little fire
But it's bright the dying spark
Go tell the young messiah
What happens to the heart
There's a mist of summer kisses
Where I tried to double-park
The rivalry was vicious
And the women were in charge
It was nothing, it was business
But it left an ugly mark
So I've come here to revisit
What happens to the heart
I was selling holy trinkets
I was dressing kind of sharp
Had a pussy in the kitchen
And a panther in the yard
In the prison of the gifted
I was friendly with the guard
So I never had to witness
What happens to the heart
I should have seen it coming
You could say I wrote the chart
Just to look at her was trouble
It was trouble from the start
Sure we played a stunning couple
But I never liked the part
It ain't pretty, it ain't subtle
What happens to the heart
Now the angel's got a fiddle
And the devil's got a harp
Every soul is like a minnow
Every mind is like a shark
I've opened every window
But the house, the house is dark
Just say Uncle, then it's simple
What happens to the heart
I was always working steady
But I never called it art
The slaves were there already
The singers chained and charred
Now the arc of justice bending
And the injured soon to march
I lost my job defending
What happens to the heart
I studied with this beggar
He was filthy he was scarred
By the claws of many women
He had failed to disregard
No fable here no lesson
No singing meadowlark
Just a filthy beggar blessing
What happens to the heart
I was always working steady
But I never called it art
I could lift, but nothing heavy
Almost lost my union card
I was handy with a rifle
My father's .303
We fought for something final
Not the right to disagree
Sure it failed my little fire
But it's bright the dying spark
Go tell the young messiah
What happens to the heart
jun 2016. godine