Napustili su direktorske poslove i za dve godine prešli više od 200.000 kilometara. Usput su radili i najobičnije poslove kako bi postali stanovnici sveta
Možete li da zamislite kako prodajete sve što trenutno posedujete, pakujete najosnovnije stvari i kupujete kartu za put u nepoznato? Zapravo, ne morate. Oni su to uradili umesto vas. Chanel Cartell i Stevo Dirnberger napustili su direktorske pozicije u marketingu, odrekli se sigurnosti svakodnevice i veoma brzo postali miljenici internet zajednice. Napustivši svoj dom u Južnoj Africi, za život i putovanja zarađivali su na razne načine, a poslovi koje su obavljali drastično su odstupali od svega na šta su navikli. Za samo dve godine prešli su više od 200.000 kilometara, upoznali raznolikost kultura na četiri kontinenta i aktivno spoznali kako izgleda život u više od 15 zemalja. Svakako, Chanel i Stevo stekli su pravo da sebe nazovu stanovnicima sveta, a evo i kako taj svet izgleda u očima ovog mladog para.
Trenutno na Instagramu vašu priču prati više od 145.000 ljudi širom planete. Ipak, malo je onih koji mogu da prevaziđu strah od neizvesnosti i krenu vašim stopama. Šta je uticalo na odluku da napustite zonu komfora i stupite na nepoznat teren?
Ideja da krenemo na ovakvo putovanje jeste delovala obeshrabrujuće na samom početku. Bili smo prilično uplašeni kada je sve postalo izvesno, ali kada je reč o tako velikim odlukama, ne treba brinuti unapred, već treba ići korak po korak. Razmišljajući na taj način lakše smo se prepustili tokovima ovog neverovatnog putovanja. Ipak, glavni pokretački faktor bio je govor Stefana Sagmeistera o tome koliko je važno izdvojiti vreme za sebe i biti kreativan. Nakon njegovog izlaganja 2014. godine na konferenciji Design Indaba odlučili smo da je pravo vreme da napravimo prvi korak.
Kao i svaka priča, i vaša ima dve strane. Kako izgleda dobra, a kako loša strana putovanja?
Dobra strana jeste probuditi se na novom mestu svake nedelje, a ponekad i češće – svakog dana. U mogućnosti smo da doživimo i vidimo sopstvenim očima nešto što se nismo nadali da ćemo ikada videti. Privilegija je upoznati se sa različitim načinima života širom sveta, to čini naše putovanje neprocenjivim. Međutim, višesatna vožnja i celokupno planiranje i priprema veoma su iscrpljujući, što jeste druga, loša strana ove priče. Svakako je moguće tek po dolasku na određeno mesto tražiti i iznajmiti smeštaj, ali ukoliko želite da ostanete u granicama zacrtanog budžeta i ne potrošite previše, morate unapred istražiti najbolje opcije, kako za smeštaj, tako i za prevoz i hranu. Sve to oduzima mnogo energije i vremena.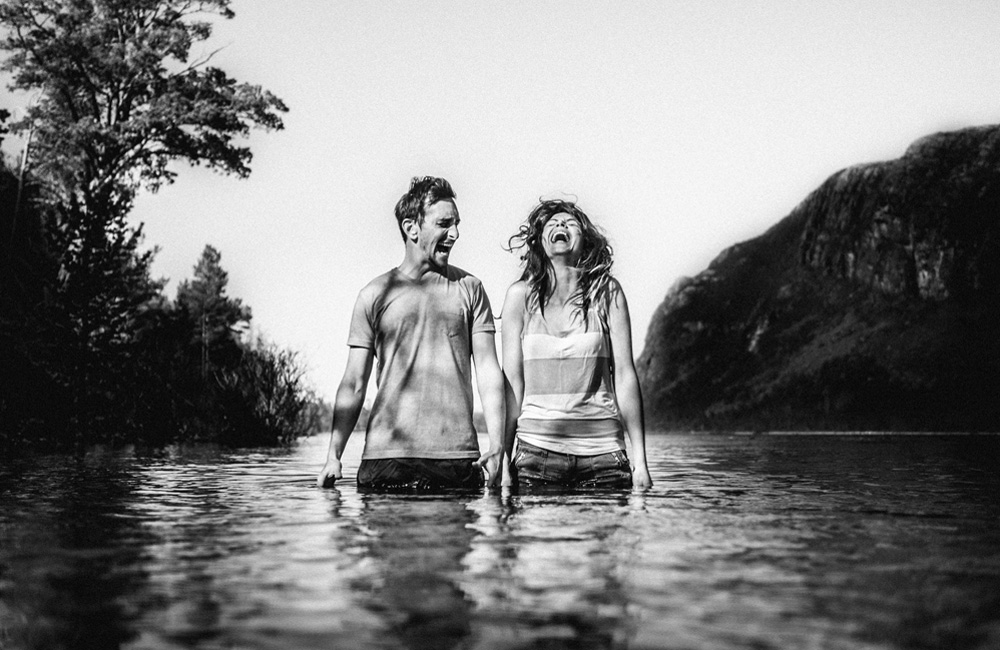 Koje su to aktivnosti za vas bile najveće odstupanje od dnevne rutine na koju ste kod kuće navikli?
Iskusili smo mnogo neobičnih stvari u prethodne dve godine, kao i razne tzv. prljave poslove. Na početku putovanja radili smo volonterski u zamenu za smeštaj. Sređivali smo kokošinjce, pomagali smo u izgradnji puteva, radili i vodili računa o 70 haskija u Norveškoj i čistili toalete u Švedskoj. Ovih dana držimo se poslova kao što su dizajn, izrada fotografija i davanje saveta onima koji žele da putuju kvalitetnije.
Putujući tako dugo bili ste u prilici da posetite razna mesta. Koje vas je od njih najviše podsetilo na dom?
Možemo reći da je Australija mesto na kome smo se najviše osećali kao kod kuće jer je samo mesto izuzetno slično našem domu u Južnoj Africi. Međutim, Italija i Austrija su nam takođe prirasle srcu, i to su zemlje koje ćemo sigurno posetiti opet.
Šta ste doživeli kao najveće iznenađenje otkad je vaše putovanje počelo?
Pre svega mislili smo da nećemo putovati ovoliko dugo, što je za nas zaista iznenađujuće. Ipak, ono što nismo verovali da ćemo biti ikada u mogućnosti da uradimo jeste da govorimo pred 5.000 ljudi u našoj matičnoj državi. Naime, prošle godine u februaru imali smo priliku da na konferenciji Design Indaba podelimo sa drugima našu priču, što je bilo jedno predivno iskustvo.
Kako je to izgledalo, možete videti na ovom linku
Koliko ste trenutno daleko od kuće i kako provodite vreme?
Do sada smo proputovali 213.260 kilometara, a trenutno sedimo u hotelskoj sobi na Baliju jer prethodna dva dana neprestano pada kiša. Pokušavamo da iskoristimo to vreme kako bismo napravili plan za narednih nekoliko meseci i odredili mesta na kojima ćemo odsesti, te kako ćemo do njih stići i koliki će biti celokupan trošak.
Do sada ste posetili više od 15 zemalja i 49 gradova. Šta je sledeće na vašoj mapi?
Nakon Balija planiramo da otputujemo u Vijetnam i tamo proslavimo Stevov 31. rođendan. Zatim ćemo posetiti jednog starog prijatelja u Kambodži, a potom su nam stanice Kina i Japan. Koje odredište sledi nakon toga, još uvek ne znamo.